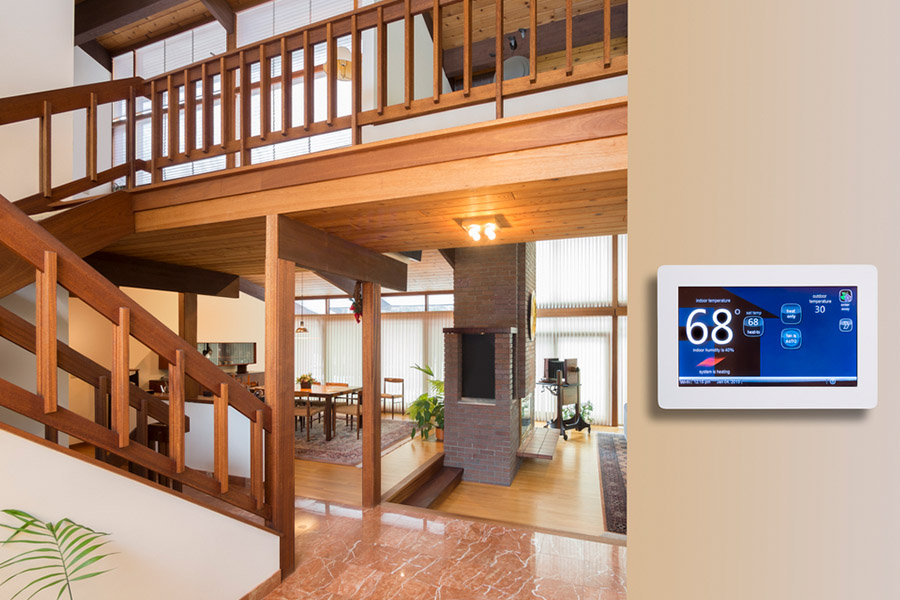 Does It Make Sense To Install A Smart Thermostat In Lawrence?
The latest smart thermostats have evolved quite a ways past the simple dial or switch for regulating your HVAC system. If you think now might be the right time to install a smart thermostat in Lawrence, you stand to get an abundance of comfort with less effort on your part. Equipped with wireless connectivity, temperature settings for multiple zones, and home automation, these revolutionary controls will reduce utility bills and make your home truly comfortable and safe.
How Do Smart Thermostats Work In Lawrence?
Once installed, your new smart thermostat will operate the same as your previous model in the sense of basic temperature control. The look might be sleeker, but you can still view the current temperature. You'll still have the chance to raise and lower the heat and A/C from the device, and it continues to allow you to quickly adjust settings for cool, heat, and fan.
But, in the event you install a smart thermostat in Lawrence, you will benefit from a wide array of new features. That's because the device is connected wirelessly to a larger system, like an AI assistant or home security system. With a smart control panel or mobile app, you may set your smart thermostat to alter your home's temperature settings by itself at different times of day or to respond to a triggered event in your network. The result is a house with enhanced comfort and energy efficiency.
It Makes Sense To Install A Smart Thermostat in Lawrence
There are a range of incentives for upgrading your standard unit to a smart thermostat:
● Simple management through a smartphone app. Manage the thermostat remotely through a cell phone app such as ADT Control. Does it feel stuffy as you're attempting to fall asleep? Simply open your phone and lower the temperature while staying in bed. Or inspect your home's temperature readings while on summer break, and tweak the settings to save energy when no one's at home.
● Set a schedule. Your smart thermostat allows you to implement a schedule for your HVAC system. Set various temperature adjustments to best fit your lifestyle. Reduce the heat when it's time to go to bed, then raise it again a little bit before you arise. You might even design different scenes for certain situations -- like a scene for when you're hosting a party or another for when you use the fireplace.
● Lower utility bills by using home automation. An incredible advantage of using smart thermostats is how they save money on your heating and cooling bill. Because you can easily modify temperature settings as needed due to the season, weather conditions, or your normal daily routine. There's no need to spend excess energy heating an empty house. In addition, by programming schedules, your smart device changes the temp automatically. A range of energy providers are known to provide incentives and rebates for qualifying models or situations.
● Utilize vocal directives to manage your home. If you choose to install a smart thermostat in Lawrence, you may even hook it up to work with a Google or Amazon AI assistant. This gives you the ability to adjust your home's comfort without even using your hands.
● Link your thermostat to other home automation items. In the event your smart thermostat is part of an overall home defense package, you're able to connect all your components together. This could help safeguard your house when disaster strikes. For example, you may set your thermostat to engage the ventilation fan when your fire alarm goes off.
Make The Switch To A Smart Thermostat In Lawrence Today
If your current thermostat falls short of meeting your needs, you should upgrade to a new "smart" model. These devices stylish, simple to operate, and can save money over time. You stand to reap the most benefit when you link it with a state-of-the-art home protection package. Contact us today at (785) 268-2728 or submit the form on this page to inquire about your Lawrence smart thermostat.
Communities Served Around Lawrence By Secure24 Your Local ADT Authorized Dealer